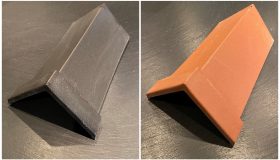 Marley Eternit Clay 450mm capped angle ridge
The Marley Eternit clay ridge comes in a variety of different angles. The benefit of this is that it allows the ridge to fit flusher to the pitch of the roof, giving a cleaner appearance. The ridge is installed with a stainless steel screw at the rear of the ridge. The screw is then covered by the cap of the next ridge. We recommend applying a bead of sealant under each cap to increase the ridges weather proofing.
Yates Slate stock the ridge in both Red Smooth and Slate black, for the following angles:
90 degree.
105 degree.
115 degree.
125 degree.
135 degree.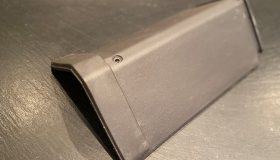 CS CR2 mechanically dry fixed capped Clay ridge
The CR2 clay ridge is a universal angled ridge to suit a wide range of roof pitches. The interlocking cap creates a watertight seal. The ridge is installed by using either 1 or 2 stainless steel screws depending on weather conditions, the screws are installed with a washer to prevent water ingress.
This ridge is ideal for stockists as it alleviates the need to stock a wide range of angles for various roof pitches.
The coverage of the ridge is 410mm with the overall length being 450mm including the cap.
Nails
We stock a wide range of copper and aluminium nails. Copper is the preferred choice as it is a superior material for the given application, aluminium however provides a viable solution for people on a tighter budget. We stock the following sizes:
Copper Nails:
32mm x 2.65mm
32mm x 3.35mm
38mm x 3.35mm
45mm x 3.35mm
50mm x 3.35mm
65mm x 3.35mm
Aluminium Nails
32mm x 2.65mm
32mm x 3.35mm
38mm x 3.35mm
45mm x 3.35mm
50mm x 3.35mm
65mm x 3.35mm