From our large storage and distribution centre in Clitheroe, Lancashire, our slate delivery of natural roofing slates occurs daily, nationwide to destinations ranging from Aberdeen to Plymouth and all points in between.
This slate delivery service includes the highest quality slate products available from Yates Slate, manufactured and hand-finished from slate quarries. The slate is of a consistently high standard of slate roofing products for all of your roofing project needs.
We operate three delivery vehicles in our fleet, all of which are specialist vehicles perfect for the varying requirements of our customers. An 8 wheeler rigid, articulated lorry and a 6 wheeler rigid equipped with a drag trailer. Each slate delivery vehicle fitted with its own de-mountable all-terrain forklift truck.
We have chosen to fit out all our lorries with de-mountable forklifts as opposed to cranes and various other forms of offload as we believe that this gives us an advantage. This allows us to access sites that are not accessible by a long vehicle and therefore means we can complete delivery of our products without any complications.
These variations enable us to deliver in all manner of situations whether it's down a tight country lane, busy city centre or simply to a yard. We have all your slate delivery requirements covered.
Yates Slate Delivery
You'll find that throughout the country when there's a slate product to be delivered it will most likely be delivered by one of our slate delivery drivers on one of our slate vehicles. We currently deliver slate from Clitheroe, Lancashire to all destinations in the UK daily using our own fleet of wagons. These slate deliveries include many large prestigious organisations such as schools, colleges and universities, hospitals, solicitors' offices and local builders merchants etc.
From us, you will get a range of slates such as:
Other slates include La Rovca, Brazilian, and HUAN YU Q2. Note that the list is long, and we keep adding more products to suit your needs. You can also rely on us because we offer competitive prices to ensure that pay a fair price.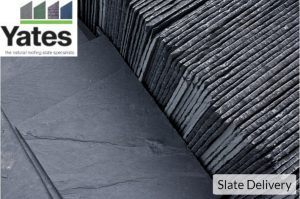 Talk to Us
Our staff are available throughout the day, waiting to hear from you. Talk to us today on 01200 427711 or email our slates team on info@yateslate.co.uk if you want a slate delivery services that will not keep you waiting too long.  Alternatively, fill in your details using the form below and we will get back in touch as soon as possible. We constantly review the market, so you should come back periodically to find if we have any new products for you. Besides chatting with our highly experienced team, you can visit our premises and have a one-on-one talk with our slate specialists.