If you are looking at adding the beauty of a green slate to your roof, the Brazilian slate is a very cost-effective way of doing so. Our Brazilian slate is quarried from the Minas Gerais area of Brazil. The Grey Green colour in particular has become very popular, especially in the south west due to its similarity in appearance with Delabole slate.
Why Choose Brazilian Slate?
Below are reasons that make the slate a good choice:
Aesthetics – The slates have an attractive look. While it is smoother than most, it does have a slight texture. The slates have heavily dressed edges and no visible pirate, these characteristics make for an aesthetically pleasing roof.
Value – Brazilian slate can be a very cost effective way of having a slate roof, especially in the Grey Green colour, the slate undercuts most other slates on the market. Brazilian slate is inherently more brittle than a lot of other slates, however when installed with care this issue can be mitigated. We recommend that you should never walk on a slated roof, however if this is something that cannot be avoided then we would highly recommend choosing an alternative option.
Colour – Unlike other slates that have a single colour, this slate is available in two distinct colours, graphite grey and grey-green. Depending on your inclination, they both make a roof stand out.
Uses of Brazilian Slate
We stock two main sizes in both colours of our Brazilian slate which are 600x300mm and 500x250mm, these are both in the 7-9mm thickness. We can supply other sizes and the 5-7mm thickness however we do recommend the 7-9mm as it has more durability.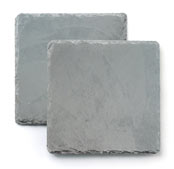 Graphite Grey & Green Slate
The jury's out on this one as to the true classification of Brazilian slate. However, there is a demand for this natural roofing slate. It is available in two distinct colours, graphite grey and greyed green slate. We recommend that only the thicker 7/9mm thickness is considered due to its inherit brittleness. When laid with care, a very uniform appearance can be achieved. This natural graphite slate product is very competitively priced, especially in the greyed green colour.
Sizes Available:
600 x 300mm
500 x 250mm