Burlington & Westmorland Green Slate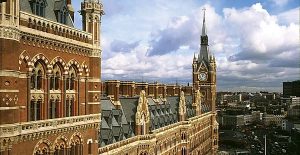 Burlington blue/grey, the original Lancashire slate. In the first 375 years of this world renowned slates production, the quarry lay firmly within the palatine county of Lancashire. In 1974, a politicians pen "moved" the quarry to cumbria by re-drawing the county boundaries. For centuries this distinctive slate, in its many guises, has adorned the roofs of many of the country's most majestic buildings.
Westmorland Green Slate
Burlington green slate is often referred to as Westmorland green. This beautiful, rugged slate produced for centuries in the heart of the English Lake district, is still mainly produced in traditional, random and diminishing course format. This Westmorland Green slate is available in two distinctive colours:
Elterwater – light sea green
Honister – olive green
Yates & Co are proud to be associated with Burlington Stone Ltd, the producers of Burlington blue/grey and green slates. We are their main agents and only stockists.