Beautiful and Durable Welsh Slate from Yates & Company Ltd
Yates and Company Ltd are the largest stockists of both types of Welsh Slate: Penrhyn Heater Blue and Cwt-y-Bugail Blue Grey. We offer an unrivalled stocking and distribution service. Our Welsh slate specialists also hole and shape roofing slates to meet customer specifications.
Welsh Slate Ltd produce two types of roofing slate from quarries at Bethesda and Ffestiniog in North Wales. Slates from these two areas are supplied in three grades of thickness, Capital Grade (5.5mm ), County Grade (7.0mm), and Celtic Grade (9.0 mm).
Welsh slate is of the highest quality and arguably the finest roofing slates in the world.
This 21st century industry is a far cry from the labour intensive production methods of previous years. The modern production facilities of both Bethesda and Ffestiniog employ highly skilled craftsmen, operating the most modern equipment and building materials available to the industry. These facilities produce a healthy supply of both the Penrhyn and Cwt-y-Bugail slate, whose reputation has been amassed during the many centuries of their existence. Yates & Co are proud of their long association with Welsh Slate Ltd and we are regarded as the country's pre-empt agent, stockist and distributor of these world renowned Welsh roofing slate products. Call us on 01200 427711 with any enquiries or use the link below to get in touch online.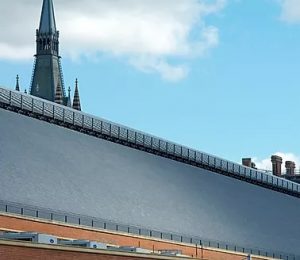 Grades of thickness:
Capital – 5.5mm Nominal – Generally smooth textured.
County – 7.0mm Nominal – Slightly pronounced texture.
Celtic- 9.0mm Nominal – Moderate pronounced texture.
Core Production Sizes:
Penrhyn
Penrhyn slate is quarried at Bethesda, Wales. They are heather blue in colour with subtle shading variations which distinguish a natural slate roof from artificial tiles. These non-fading slate products come in different core production sizes which are;
500x300mm
455x250mm
400x250mm
300x200mm
Cwt-y-Bugail
Cwt-y-Bugail slates are quarried at Ffestiniog in North Wales and are dark Blue/Grey slate tiles. They come in different core production sizes which are;
500x300mm
500x250mm
400x250mm
400x200mm
300x200mm
Benefits of natural Welsh slates
Durable
Welsh slate is one of the most durable roof coverings known to man. It has been quarried from Bethesda region for over 700 years.
Due to Welsh Slate being made up of natural minerals, they are highly resistant to corrosion. They also have a much higher resistance than other roof coverings which makes them less likely to cause damage during installation and maintenance.
Resistant
Welsh slates will withstand extremes in temperature without changing colour or becoming brittle for many years. These are some of the most heat resistant roofing materials available.
Low Maintenance
Welsh slate is easy to maintain and resists moss growth because they are a natural mineral product. They also have an extremely low porosity so it will not retain any water which means there's little risk of mould or algae accumulating on them, even if left in place for many years.
Conspicuous and attractive
Both the Heather Blue and Blue/Grey colours are gorgeous and appealing to look at. These are some of the most beautiful roofing slates in the world. Most home and business owners opt to use these slate products because of this fascinating quality.
Cost-effective
Welsh slates require very little maintenance. When fitted in accordance with BS: 5534 Welsh slate will often outlast the building they cover.