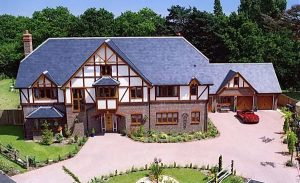 Roofing slates produced from the Villar Del Rey quarry are one of the finest slates produced in Spain. The Spanish slate is unique in its appearance with a very smooth blue and black colour, giving a very consistent and uniform finish to a roof, yet retaining the subtleties of a natural slate with its slightly varying shades. Villa Del Rey is highly regarded by contractors for its excellent selection, consistency and ease of cutting. Combined with requiring minimal grading, an unrivalled neat and smooth finish can be achieved.
This natural roof slate is fully compliant under B.S. EN12326-1:2004 as W1,T1,S1 and carries a quarry guarantee of 75 years.
Stock Sizes
600x305mm
510x250mm
400x250mm
For any enquiries regarding our Spanish slate products, please call our slates team on 01200 427711 or email info@yatesslate.co.uk. Alternatively, contact us below to send an enquiry online.