Ferlosa is a natural roof slate that originates from the north of Spain, with various thicknesses and grades available at Yates Slate. Call 01200 427711 for more information on this magnificent product.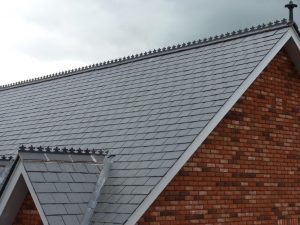 Spanish Roof Slates
Spanish roof slates, quarried in Northern Spain, are light grey natural slates with a riven surface and are available in various thickness and grades, all of which carry a 50 year quarry guarantee. Ferlosa Spanish roof slate offers a more rustic appearance which is perfectly suited for more period style properties and looks especially good on a stone build.
These Spanish roof slates are fully compliant under B.S. EN12326-1:2004 as W1,T1,S1 and carries a quarry guarantee of 50 years.
Spanish Slate Stock Sizes:
Spanish slate is the most widely used roofing material in Europe and has been for generations, because it is considered a superior product sold in the world.  The reason is that this natural roofing slate is hard wearing and lasts a lifetime.
Key features of Spanish slate:
It can be used above conventional roofing systems, which includes tiles, clay tiles, felt or even plain wood.
Spanish slate feels like tile underfoot/hand and is really simple to lay.
A range of different styles are available including modern look Spanish slates perfect for use as copings, hips and ridge capping.
Whilst Ferlosa Slate is manufactured in Spain there are several quarries across England that source this material from Spain where the raw building stone has been extracted. Ferlosa slate offers great value for money without compromising on quality or durability. Spanish slates are strong and resilient, making it the perfect roofing material. Natural Spanish roof slates can be laid directly on top of existing tiles without a need to re-felt providing an easy, low maintenance solution for roofs with limited space or where double layers are not needed.
Today, most slate roof tiles in the UK originated in Spain and are used for high-end projects, historic buildings, pitched-roof homes, and sustainable architecture. The UK is one of the biggest importers of natural Spanish slate and holds a large part of the Spanish market.
Spanish slate has a heavy duty wear layer that makes it suitable for pitched roof use and copings up to 18″ high, as well as allowing you to lay your roof slates vertically – an aesthetic improvement over horizontal slates. Compared with other types of natural slate, Spanish slates have a more even coating, which helps reduce water absorption during rainfall. The only real care needed for the slate is regular cleaning from debris such as leaves etc. which may fall onto the surface from time to time.
If you are looking for the finest quality slate at the most competitive price, then Ferlosa quality roofing slates are the ones for you.