We love to see where and how our roof slates have been used by our customers – the results are often striking. Our customer, Complete Roofing Systems, shares why they chose Yates Welsh slates for a re-roofing project in Macclesfield.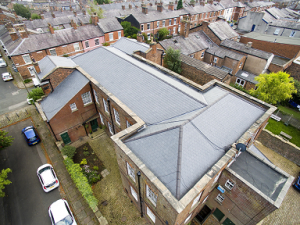 Welsh slate is generally regarded as the highest quality roofing material in the world, so we relish the times we get to work with this remarkable product.
Chapel Court is a Grade II listed 19th century building just off the famous Silk Road in Macclesfield. Originally a silk merchant's house, it has now been converted into a luxury apartment building. With the original covering in poor condition and leaking, we were asked to re-slate the 500 sq m roof.
Slate to match
As Chapel Court has such a rich heritage, we felt that only the best would do to retain the high quality character of the building and, of course, to provide many years of protection. Welsh slate not only reflects the quality of the building and is in keeping with its aesthetic, but it is also extremely durable, robust and reliable, and is unaffected by normal extremes of temperature. Having worked with Yates Slates for some years, we knew their Penrhyn Heater Blue Welsh slate would provide the quality we were looking for.
It was also important for us to consider the local residents when choosing the product. The building is located on the edge of Macclesfield town centre, in an area with an extremely tight street grid, meaning many of the local residents overlook Chapel Court and have full view of the building. Renowned for its natural blue colour, Welsh slate is conspicuous and aesthetically pleasing, so we knew the result would complement the buildings in the surrounding area.
Installed to the highest standards
Before slating could begin, we replaced the gutters and spars where the timber had rotted due to longstanding leaks. We then reinstated the roof using 13,000 Welsh slates.
Working to the highest modern standards, we used graded, sorted and stamped BS5534 battens, rockwool for the top up loft insulation to ensure the appropriate U value was met and a high quality breathable membrane to ensure the roof is waterproofed in every eventuality, as well as reducing the risk of damp and mould forming. As the building is in a high rainfall area, we ensured that BS5534 was thoroughly followed in terms of creating an appropriate headlap, together with using copper nails as fixings. For the finishing touches, we repaired the chimneys and replaced the lead gutters.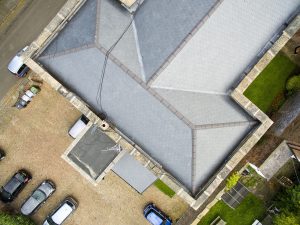 The results speak for themselves – Chapel Court now boasts an attractive, long-lasting roof that will protect the building's residents for generations to come.
In recognition of our work, Chapel Court was named as a finalist in the heritage roof category at the Pitched Roofing Awards 2021. Find out more about their roofing and cladding services.